By Tim Waldron

published

on
RealMe® turns 6. Tim Waldron writes about RealMe's journey to take the entire process for applying for a RealMe verified identity online.
This July, RealMe® — the government's login and identity verification services — turns 6. Like any 6-year-old, RealMe has grown and developed significantly in that time. These trusted services are now widely used by government, business and New Zealanders.
Early beginnings
Six years ago, the goal of RealMe was to help government agencies design digital services and make it secure and easy for New Zealanders to access and use those services.
Since then:
37 agencies have designed more than 100 government services using RealMe
New Zealanders have used the RealMe login service over 110 million times
620,000 RealMe verified identities have been created, and
the RealMe verified identity service has been used digitally 654,000 times.
Award winning services
In 2014, RealMe took out the New Zealand Internet Award, Security and Online Safety Award.
Four years later, RealMe won the International 2018 Radiant Award for Innovation and Vision in Identity Systems.
Also in 2018, RealMe became the first government agency to receive the new Privacy Trust Mark, Noho Matatapu from the Office of the Privacy Commissioner (OPC) in recognition of RealMe's privacy-by-design approach.
Increasing demand for RealMe
Overall, data shows the up take of the RealMe service is increasing among both government agencies and businesses. Meanwhile, demand for its login and identity verification service continues to grow among New Zealanders keen to do more online, with increased safety and security and less hassle.
Personally, it's been great to see people reuse the RealMe login service. Rather than create a specific login for each agency, people are simply re-using their RealMe login across multiple agencies and services. Better yet, data shows fewer users are having to reset their username or password as reuse grows.
Example of government innovation
It's fair to say RealMe is an excellent example of government innovation, evolving quickly from a login service to an essential, government-backed digital identity tool New Zealanders can use to prove their identity online.
One of the things I'm most proud of, looking back, is bringing the entire process for applying for a RealMe verified identity online.
The journey took 'blood, sweat and tears', but we managed to create a complete digital experience and a way to issue an online identity credential with high confidence.
Taking identity verification online
Here's what we did. In 2017, we teamed up with Kiwibank and key software vendors Daon and Sush Mobile who provided the 'liveness check' and facial recognition technology we needed.
By April 2018, the RealMe mobile phone app was launched with Kiwibank customers as RealMe Now, making it possible for iPhone users to verify their identity using RealMe as part of opening a Kiwibank account.
Next, we extended the service to anyone applying for a verified identity with a New Zealand passport. In this case, people needed an iPhone 5S or newer version, a New Zealand passport issued after 2004 and the RealMe Now app.
By August 2018, the uptake had grown beyond our expectations to more than 10,000 people.
The volume had 2 main benefits:
it gave us the operational and customer experience data we needed to fine tune the process, and
it gave us confidence people really did want to complete the photo capture process online.
RealMe's web photo capture technology
By February 2019, we'd developed the technology further so that anyone with a passport could complete the photo capture process online on any device — be it mobile, laptop, tablet or desktop.
Using RealMe's web photo capture technology, users can now complete three things online:
take a 'selfie' image using the camera on their preferred device
carry out a 'liveness check' to prove they're a real person in front of the camera by blinking, shaking their head and nodding
have their image verified by RealMe's facial recognition feature, which completes the process by matching the user's live check results and selfie image against their passport photo.
How to apply for a RealMe verified identity online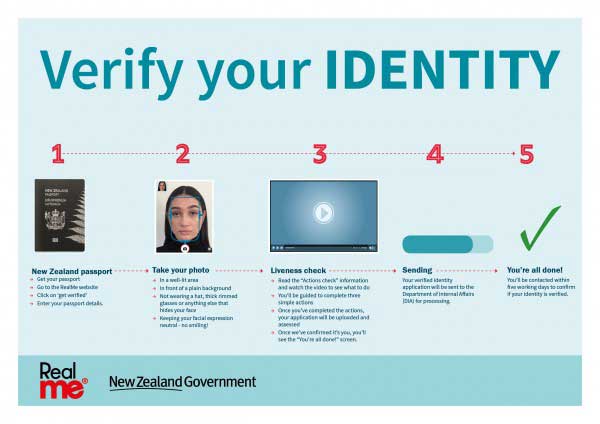 >Detailed description

This image shows the steps for verifying your identity using RealMe's web photo capture technology.

Step 1: NZ passport — go to the RealMe website, click 'Get verified' and enter your passport details.

Step 2: Take your photo — make sure your photo is taken in a well-lit area with a plain background, your expression is neutral and you're not wearing anything that hides your face.

Step 3: Liveness check — the 'Actions check' content and video will guide you to complete 3 simple actions. When completed, your application will be uploaded and assessed. Once RealMe have confirmed it's you, you'll see the "You're all done!" screen.

Step 4: Sending — your verified application will be sent to the Department of Internal affairs.

Step 5: You're all done — you'll be contacted within 5 working days to confirm your identity is verified.
What's next
So, what does the RealMe experience tell us about the future of digital government in New Zealand?
I think it tells us that it's well under way.
New Zealand ranks among the top 9 digital countries in the world for a good reason.
Many of us in government are out there doing it. We're collaborating with others. And we're developing products and services in response to user's needs and experience.
In 2020, the Department of Internal Affairs will report back on what we're calling the 'digital identity ecosystem' and RealMe's position within that broader ecosystem.
Right now, after 6 strong years of development, RealMe is a solid example of government innovation in action.
Published
Categories
Tags
Utility links and page information