By Lana Gibson

published

on
The Service Innovation Lab team has been working alongside DIA Service Delivery to improve the experience for people claiming rates rebates. Now in Beta phase, Lana writes about how we're testing the new online rates rebate application process with 3 councils.
The Service Innovation Lab team has been working alongside the Department of Internal Affairs Service Delivery and with different local New Zealand councils to improve the experience for people claiming rates rebates. The team wrote about the Alpha phase in a previous blog post, it's now in the Beta phase which involves testing a new online rates rebate application process with 3 councils.
The rates rebate subsidy
A rates rebate is a subsidy (up to $630) for low-income homeowners on the cost of their residential rates. The team found that not all eligible people know about the rebate and that it can be tricky to find out how much they can get and apply for one.
Evidence-based changes result in measurable improvements
David Turfrey (Business Advisor, Government Information Services) and I have been tracking the performance of the changes already made by the team, and we've found their evidence-based changes have resulted in measurable improvements.
The team has made a number of improvements to the rates rebate user journey, including:
content changes based on Search Engine Optimisation (SEO) research to make content more findable in Google and simplify the user journey
improvements to the calculator based on usage data and feedback
easier access to the application form based on SEO insights.
Google performance
We gathered a list of popular 'rates rebate' Google searches using Google Keyword Planner. In terms of Google performance, Govt.nz (where our content currently sits) receives a third of clicks for rates rebate terms, while council sites also receive a large proportion.
Council sites provide a good user journey, so at Govt.nz we're not looking to grab all the traffic. We do want to make our content as user-friendly as possible, and keyword research told us what people wanted.
STAT shows that Govt.nz receives a third of Google traffic for popular 'rates rebate' searches: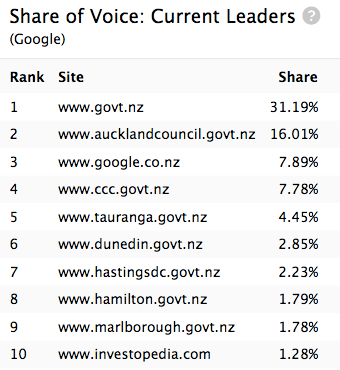 We found that the most popular Google searches were 'rates rebate calculator' and 'rates rebate form', so Hannah Cook (Lead Content Designer) optimised content to pages called Rates rebate calculator, and Rates rebate application form to meet these needs.
We also removed other rates rebate pages, because they were forcing the user to make unnecessary clicks to get to the content they needed, and this reduced the average number of pages per session by 21%.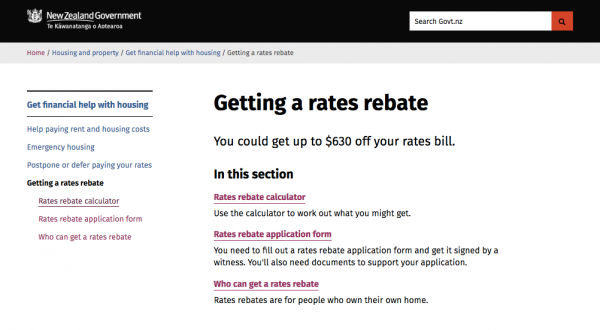 Google traffic has increased to the content, though this could be because it's coming up to application time. A definite improvement is a fact that we're getting a higher click-through rate, which means more people are clicking on our results in Google instead of choosing another website.
The click-through rate from Google to Govt.nz for rates rebate searches has gone from 44% to 57%, suggesting the user-focussed titles are working.
Clicks to Govt.nz from 'Rates rebate' Google searches Jan 1 to 21 May 2019

Improving the rates rebate calculator
We identified usability problems with the calculator through the Govt.nz online user feedback form. There was no clear button to generate a result, so people didn't know if the calculator had worked. People got confused about what the terms like 'dependant' meant and didn't know what to include in the 'income' field.
To fix this we added clear buttons to each step, clearly described what information is needed in each field, and gave 3 simple income brackets to choose from.
In the new calculator users only need to submit their approximate income as they're just getting a quick estimate — the calculator is designed to show them whether it's worth pursuing with the application.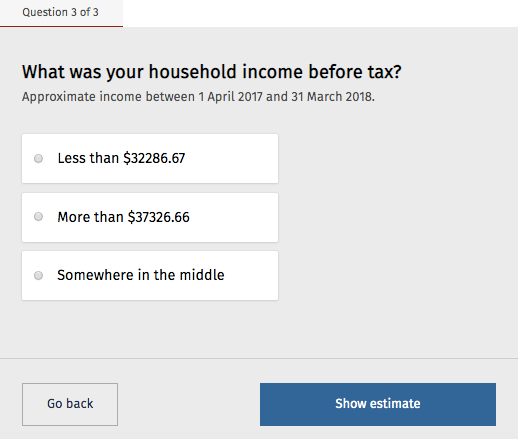 Calculator results
There's been a significant increase in people getting rebate estimates. 58% of people visiting the site received an estimate, versus 47% for the previous calculator.
Application form downloads
Application form downloads increased significantly after the content changes. This will be in part due to increasing demand as the application date nears, but it's also due to recent changes.
It's easier for people to calculate whether they're eligible, and the application form has been placed just under the calculator. It's very good news in terms of increasing the uptake of the rebate, which is a core goal of the team.
Form downloads March to May 2019
Next steps
We're now working through the Beta phase and will post updates as we progress. We're testing a new online application process with 3 councils, so people can apply for a rates rebate without having to download the form.
Eliminating the need for paper forms and paper-based evidence should significantly reduce material and human resource costs and be an example to other government initiatives considering going online with their application forms.
It's great to see the evidence-based changes the team has made have resulted in measurable improvements already. It shows that if users tell us what they need, we just need to listen, using the right data sources and research.
Utility links and page information